Are you trying to find the Best Security Plugin for WordPress to guard your website against attacks, Spam, and Malware online? Your website's authority in the eyes of Google and your readers can be impacted by security flaws. Your WordPress website will be more protected from brute force assaults, viruses, and spammers if you use the following security plugin.
WordPress security plugins can be either free or paid for on a monthly basis, in contrast to Dehuddle free malware scanning and threat detection offered through the free consultation. In order to prevent the effects of an attack, paid versions are frequently thought to be worth the ongoing expenditure.
What is the use of a security plugin? The security plugin provides detection of file changes, Web Application Firewall (WAF) to protect your website from DDoS attacks, Website uptime monitoring, CDN service to speed up your WordPress website, Zero-day exploit prevention, Default HTTP/2 Support for all websites, Monitoring and automatic eradication of malware.
Let's examine some of the top WordPress security plugins in this article to keep your website safe.
Do I need security plugins for WordPress?
Strongly Yes! One of the most essential components of any internet business is security. Whether you run a large corporation or a small business website is irrelevant. Hackers prey on all people.
Each week, malware infects more than 18 million websites on average.
If an attack on your website is effective, it could seriously harm your company, harm your brand's reputation, and affect your search engine rankings.
One or more of these characteristics will be present in a security plugin:
Prevent hackers from guessing your login information through brute force assaults
Securely store private website data
Prevent spam from contact form plugins
Alert you when a security problem is discovered.
10 Best Security Plugins for WordPress (Free and Premium)
Click on any link to jump to a more thorough description.
1. Sucuri
Securi : One of the top WordPress security plugins is Sucuri. Large websites like WPBeginner use it, which is a great indication of the volume of traffic with a high bounce rate .
Although Sucuri has a free plugin , the premium package offers the best value. Complete protection is provided by the Pro version's features, which include:
Web Application Firewall (WAF) to protect your website from DDoS attacks
Website uptime monitoring
CDN service to speed up your WordPress website
Zero-day exploit prevention
Default HTTP/2 Support for all websites
Monitoring and automatic eradication of malware.
Read this in-depth analysis of Sucuri to learn how it prevented 450,000 WordPress attacks in just three months. You may quickly fix your Sucuri emails if you aren't receiving your notifications.
345 reviews, averaging 4.3 out of 5 stars.
Pricing: The Basic package is $199 per year or free.
Must read: How Much is Elementor Pro?
2. Defender
Price: $6/month for Defender Pro alone; $9/month for Security & Backup Packs; $19/month for Agency package.
Over a million people have already downloaded Defender, a brand-new but promising security solution for WordPress. The tool begins working right away to secure your website after you quickly install and configure it.
Defender provides a wide array of security features at no cost. It offers a free firewall with IP blocking enabled, similar to Wordfence. Its free edition also features malware scans, brute-force login protection, threat notifications, and two-factor authentication via Google.
Defender Pro can be upgraded for an additional $49 per month, allowing for the scheduling of automated scans, more thorough reporting of security issues, and better support. Access to all other premium WordPress plugins created by WPMU Dev is also included with your membership.
What we like:
Depending on how many websites you manage, Defender Pro offers variable pricing.
The plugin includes an Audit Log that keeps track of every user's activity.
If you believe there has been a hack or data breach, all of your passwords can be reset automatically.
Must read: WordPress plugins for affiliate marketing
3. iThemes Security
The same that created BackupBuddy also created the popular WordPress security plugin known as iThemes Security.
The plugin has an attractive dashboard that showcases all the available tools in the plugin. You can enable or disable the tools you want from the dashboard.
The plugin includes a visually appealing dashboard that lists all of its accessible tools. The dashboard allows you to enable or disable the tools you need.
iThemes Security also provides you with:
File change detection
Two-factor authentication
Strong password enforcement
WordPress brute force protection
Automatic database backups
User IP lockout
404 (Not found) error detection
email notifications from iThemes Security
Website firewalls and in-house malware scanners are not features of iThemes Security. For malware scanning, it makes use of Sucuri's SiteCheck.
3800+ reviews with an average rating of 4.7 out of 5.
Pricing: iTheme Security uses a freemium business model, and the free version of the plugin is accessible through the WordPress repository. The first iThemes Security Pro package is $80 per year.
4. Wordfence
In order to prevent hackers from accessing your website, Wordfence is a strong WordPress security plugin.
It utilizes the freemium business model, just like iThemes Security. The free version provides good security for a small website, but you won't get security updates as rapidly as paying users. Although some other plugins are a little simpler to use if you're a newbie, Wordfence offers an easy dashboard.
The Pro version includes additional security features like:
Country blocking
File integrity monitoring for malicious code
Real-time firewall protection
WordPress malware scanner
Brute force attack protection by limiting login attempts
Strong password enforcement
two-factor authentication for login protection.
Instead of using a cloud-based firewall like Sucuri, this plugin includes a built-in firewall that runs on your server. If you are contrasting them side by side, that is one significant difference to take into account.
Wordfence also offers weekly updates and email alerts that will immediately let you know if there is a breach attempt. Make sure your WordPress emails are functioning because if Wordfence isn't sending emails, you won't see important notices.
3600+ reviews with a 4.7 out of 5-star average.
Pricing: One site is free or $99 per year.
5. Jetpack Security
More than 5 million websites use the all-in-one plugin Jetpack.
The Pro plan comes with:
Every modification you make to the website is saved in real-time by the backup system.
Activity log; automatic malware scanning to find security issues early; one-click restore to bring your site back online without any downtime;
Spam protection for comments and contact forms on your website
Brute force defence against hacking attempts
Email notifications if your website is down.
The plugin additionally provides a contact form, CDN service, and analytics in addition to these security measures.
500+ reviews yielded an average rating of 3.9 out of 5 stars.
Free of charge. Starts at $24.95 per month for the premium plan, which includes the majority of the security features.
6. All In One WP Security & Firewall
Price: Free
An effective, well-liked, and cost-free security plugin is the All In One WP Security & Firewall. This add-on offers a wealth of functionality for its (relatively) low cost, including malware and vulnerability scanning, login protection, comment spam prevention, user monitoring, database backups, a firewall, and further methods to safeguard your website.
The plugin shows its findings on a grading system, making it simple for inexperienced website owners to comprehend and increase their website's security. All of this is connected together by an intuitive, cutting-edge interface.
One feature of this plugin that might not be very user-friendly for beginners is the requirement to add the intermediate and advanced firewall rules via your .htaccess file, whereas basic firewall protection can be enabled simply by clicking a box in your WordPress dashboard. When applying the more complex firewall rules, there may be some trial and error because this could potentially destroy certain functionality of other plugins you have put on your website.
What we like:
Without any upsells a free plugin.
.htaccess and .wp-config files that are broken can be backed up and restored.
It has a blacklist option that can limit particular users.
7. WPScan
Another excellent WordPress security plugin that receives regular updates from devoted WordPress security experts is WPScan.
The plugin checks your website and notifies you if it discovers any vulnerabilities in the WordPress core or any plugins or themes that you have installed.
It also:
Looks for plugin and theme vulnerabilities
checks for 22,000 known vulnerabilities
scans for debug file logs
Weak passwords suggestion
Security report notifications through email.
20 reviews, averaging 4.1 out of 5 stars.
Pricing: The majority of WordPress websites can be used with the free plan. A paid plan with 75 API queries starts at $5 per month.
8. BulletProof Security
Another well-known security plugin for WordPress is BulletProof Security. Although it doesn't have the most intuitive user interface, it works effectively.
Several features of BulletProof Security include:
Database backup and quick recovery
MScan Malware Scanner
One-click Setup Wizard
Login security and monitoring
Security and HTTP error logging
Email notifications
From 550 reviews, the rating is 4.8 out of 5 stars.
Pricing: There are two versions of BulletProof Security a free one and a premium one with unlimited installs and lifetime use for just $69 each. The free edition has plenty of features for the majority of tiny websites if you don't want to spend money on the premium version.
9. Security Ninja
Price: Free, with paid plans available
Install the Security Ninja plugin for thorough and user-friendly vulnerability analysis. On your core files, themes, plugins, and password strength, this programme runs more than 50 security tests. It then shows the results in your dashboard, letting you know how safe your website is.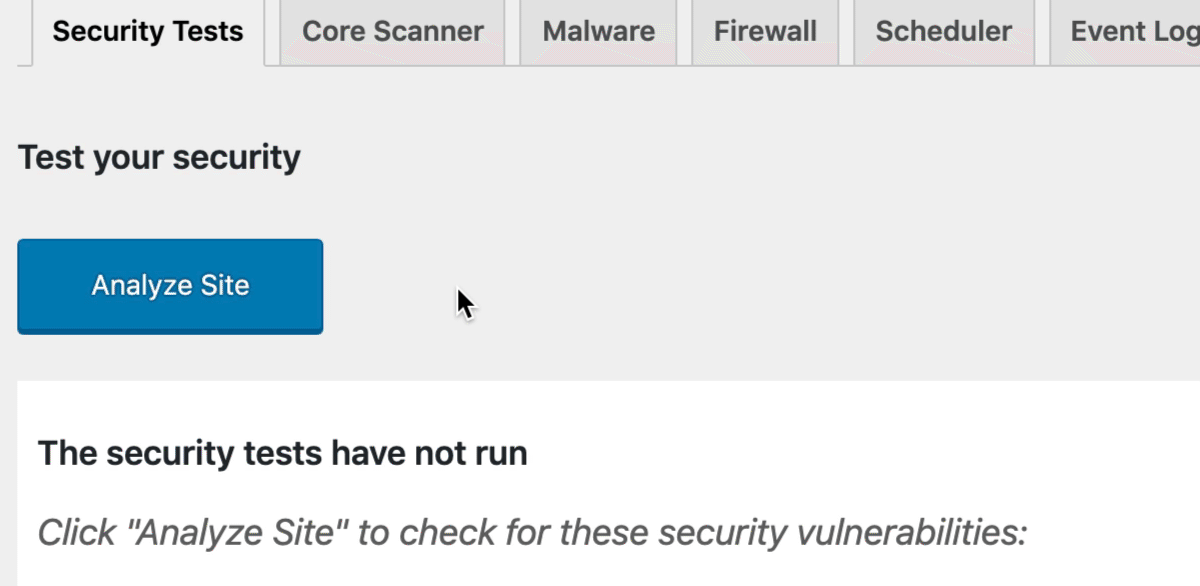 Security Ninja's free edition does nothing but report issues; it makes no changes to your website. So, if you're afraid to make substantial adjustments at the moment, give it a shot.
However, if you require a plugin to take care of these changes for you, you may want to look into an alternative or subscribe to Security Ninja Pro, which costs $39.99 per year. The pro edition also comes with a firewall, malware scanner, events logger, and scheduled scans in addition to an auto fixer.
What we like:
You do not need to be technically smart to secure your website because the auto fixer module automatically fixes problems.
You can schedule scans using Security Ninja.
More than 50 security checks are run on your website as part of the security tester module in the free edition.
10.MalCare Security
Price: Free, with paid plans available
We've covered a variety of strategies for preventing cyberattacks, but most people don't want to consider what might happen if a hacking attempt succeeded.
MalCare Security enters the picture here. One-click malware removal is available with this plugin's premium edition, which starts at $99 per year and specializes in post-attack malware cleanup.
A good standalone plugin is MalCare free, which has features for deep malware analysis of your website's files and WordPress database, login and bot protection, and a web application firewall. To benefit from automatic and limitless post-hack cleanups, you will, however, need to upgrade.
What we like:
Off-site scanning by Malware minimizes server load.
The precise scanning capabilities of this plugin have helped it gain recognition.
Effectively evaluates over a hundred signals.
Which Is the Best WordPress Security Plugin?
It's time to select the top option now that you have reached the end. Sucuri, the most comprehensive tool on this list, is our choice of the finest.
Sucuri has all the tools necessary to safeguard a website from hackers, and its cutting-edge Web Application Firewall is the strongest available.
It's a terrific all-in-one solution thanks to the free SSL certificate that is included and the worldwide content delivery network.
Create your OWN Blog: How To Start A Blog
Next Step: Don't Miss Security Email Alerts
Nearly every plugin on this list includes a capability for email alerts. Most also deliver a security report by email.
Also, keep in mind to read this tutorial on how to modify the WordPress email sender information if you want to alter the From Email settings across your entire website.
Do you want to fix your emails? With the best WordPress SMTP plugin, get going right away. WP Mail SMTP Elite offers a 14-day money-back guarantee and complete White Glove Setup.
If you found this article useful, consider following us on Facebook and Twitter for other WordPress hints and instructions.
FAQ
Do WordPress plugins have security?
In general, WordPress plugins are secure. Some plugins, though, may provide security problems due to a lack of frequent updates and incompatibility with WordPress. By completing fundamental due diligence before installing any plugins and by periodically installing updates, these dangers can be reduced.
How do security plugins function?
A top-tier security plugin will either restrict the number of requests coming from a particular IP address or user per minute or block them if they go over a predetermined limit. Identifying them as friendly crawlers will also prevent legitimate search engine crawlers from being throttled or stopped.